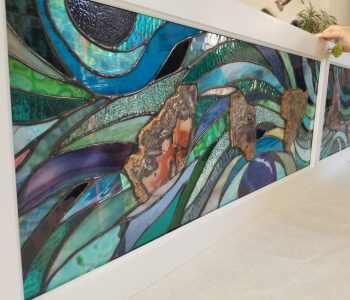 Four-Week Advanced Stained Glass – Wednesday Nights
Wednesday Nights - 6:00-8:30pm -
Cost: $150
Cost: $150 (Plus the cost of glass and materials $50-$200 depending on project)
This class is open-enrollment and you can join at any time. Call or email if you are interested in joining this class.
This class is for our most advanced students and artists to collaborate, share and socialize. It is a creative think-tank for students to discuss technique, and create and push the boundaries of mixed media glasswork. Projects range from larger scale projects to using fused glass within projects, and even three-dimensional pieces such as lamps and boxes. Students are able to have free full creativity in their projects and can make anything they wish. This class is currently full, but we can add you to the waiting list. A minimum two years of our Stained Glass Course is required to be eligible for this group.
Location:
The Glass Source Stained Glass Studio
18 Bank Street
Suite 101
Seymour, CT 06483
203-888-1616