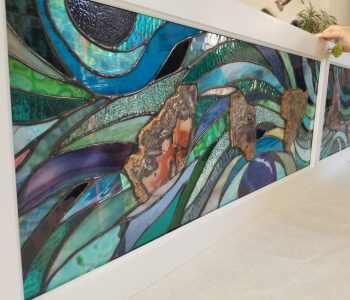 Four-Week Advanced Stained Glass – Wednesday Nights
Cost:
Cost: $150 (Plus the cost of glass and materials $50-$200 depending on project)
Date Range: November 18th – December 16th (No Class 11/25) 6:00-8:30pm
This class is for our most advanced students and artists to collaborate, share and socialize. It is a creative think-tank for students to discuss technique, and create and push the boundaries of mixed media glasswork. Projects range from larger scale projects to using fused glass within projects, and even three-dimentional pieces such as lamps and boxes. Students are able to have free full creativity in their projects and can make anything they wish. This class is currently full, but we can add you to the waiting list. A minimum two years of our Stained Glass Course is required to be eligible for this group.
Students are required to bring their own mask and gloves to keep everyone safe. Each student will have their own working space and grinder, as well as their own set of tools which will be disinfected before and after each class. If it would make you feel more comfortable, we offer a Beginner Tool Kit available in our retail store, if you would like to have your own set of tools that is not shared between classes. All students should have the following materials on the first day of class:
Gloves (Latex or Nitrile)
Mask (To be work at all times)
Paper Towels or rags
Black and silver Sharpie marker
Pencils
Apron (If desired)
Glue Stick
Masking tape
Safety Glasses
These are things we have typically had for communal use in the studio, however we ask that you bring your own in order to keep everybody safe.
Location:
The Glass Source Stained Glass Studio
18 Bank Street
Suite 101
Seymour, CT 06483
203-888-1616
Registration
There's no registration information for this class yet available.