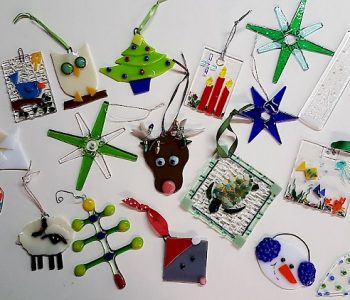 October 27, 2019 - 1:00 pm
November 16, 2019 - 1:00 pm
November 23, 2019 - 1:00 pm
November 30, 2019 - 1:00 pm
December 7, 2019 - 1:00 pm
December 14, 2019 - 1:00 pm
Cost: $85.00
Students will assemble and create 3-5 of their own one of a kind, fused glass ornaments during this workshop. Make a variety of ornaments or sun catchers, such as trees, poinsettia, snowman or anything you can think of!  There will be additional dichroic accent pieces available for purchase, if desired. Class fee includes glass and kiln firing. This is one of our most requested workshops to create your own custom gifts! Private group classes are available, dates are limited call for details.
Location:
The Glass Source Stained Glass Studio
18 Bank Street
Suite 101
Seymour, CT 06483
203-888-1616
Registration
Please click on the REGISTER button to register for this class, or contact us via email at glasssourcestudios@gmail.com or call 203-888-1616.