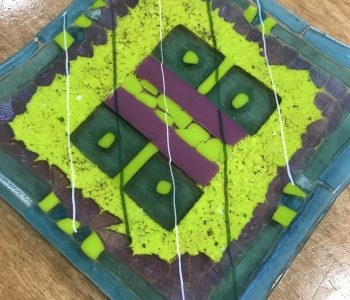 Fused Glass Plate/Bowl Workshop
August 21st - 10:00am-12:00pm
September 4th - 2-4pm
September 4th - 2-4 pm
Cost: 110
Create your own one of a kind fused glass plate.
Students will learn the fundamental for working with and creating with fused glass. Students will have a wide variety of molds to choose from and a huge selection of glass, frit, stringers and powders.
All materials are included in this one day workshop; specialty glass can be purchased during the class. Projects will be ready to pick up during the following week. Get your friends together and come in for a great time! Larger molds available for an additional cost.
Masks are no longer required if you are fully vaccinated. If you are not fully vaccinated, we ask that you please continue to wear a mask while working in the studio. Thank you for your cooperation.
Dates:
August 21st 10am-12pm
September 4th 2pm-4 pm
September 18th 2pm-4pm
Cost: $110.00
Location:
The Glass Source Stained Glass Studio
18 Bank Street
Suite 101
Seymour, CT 06483
203-888-1616