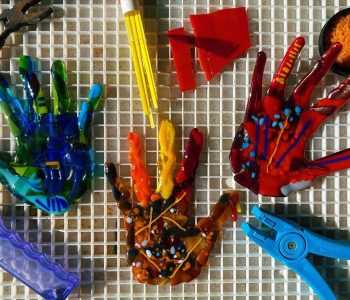 Check back in October for dates & times -
-
Cost: $45
Our own twist on the traditional turkey hand project, back by popular demand!
his hour and a half workshop is set up for ages 7+. We'll be making replicas of your child's hand into funky glass ornaments. This workshop is drop off event. Kids will have an instructor to guide them along the way for this hands-on session. Students will learn the classic glass techniques of cutting and grinding glass to fuse together later in the kiln. The hands are ready within one week. There's no limit to how creative you can get in our studio! Class fee includes glass materials, tools, and kiln time.
There is limited space in each workshop, and we fill up quick for the holidays! Call 203-888-1616 to make reservations.
Location:
The Glass Source Stained Glass Studio
18 Bank Street
Suite 101
Seymour, CT 06483
203-888-1616
Registration
Please Call 203-888-1616