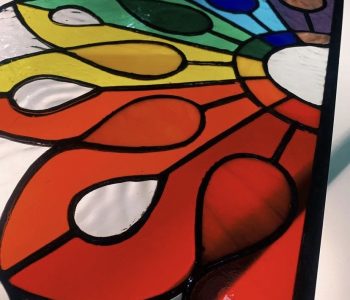 New! 4-Week Friday Night Stained Glass Class
Cost: $150
Cost: $150 (Plus the cost of glass and materials $50-$200 depending on project.)
This class is open-enrollment and you can join at any time. Call or email if you are interested in joining this class. 203-888-1616. 
In this four-week session, students will design and create their own stained glass panel. Proper pattern design layout, glass selection, cutting, grinding for proper fit, foiling, soldering, framing, polish and patina will all be covered in this course. Students should be prepared the first day of class with an idea or design in mind. Please feel free to call the studio to discuss project ideas if you would like, or when you sign up.
Some projects, depending on size, will take longer than 4 weeks. Any extra classes needed to complete your project will be pro-rated onto the next course session. Please let your instructor know if you intend on returning for multiple sessions, or would like to complete your project within the four weeks. This will help your instructor guide you in your pattern design on the first class in order to create something that can be successfully completed within the four week time frame. Many students enjoy coming to class and continue to return week after week working on new projects. Make-ups can be arranged with your instructor.
Location:
The Glass Source Stained Glass Studio
18 Bank Street
Suite 101
Seymour, CT 06483
203-888-1616