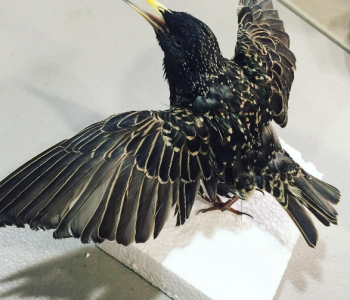 Cost: 275
Please join us in this extremely educational workshop taught by special instructor Divya Anantharaman on June 4th from 10 AM – 6 PM. Click here to register.
In this class, we will learn about the fascinating anatomy of birds and traditional bird taxidermy. This class is designed for beginners with an interest in bird taxidermy. No matter the experience level, all are welcome!
Students will learn everything they need to create their very own bird taxidermy mount, from proper skinning, degreasing/washing, to sculpting, mounting, and finishing. Students will watch a skinning and fleshing demonstration, and proceed to work with professionally cleaned and fleshed skins. This will allow the students to focus on the finer details of creating a finished piece, and practice specific mounting techniques, like carving, fitting, and modifying a form, sewing, assembly, grooming, and feathering. We will discuss how to use reference and study anatomy practically for taxidermy.
Our subject will the European starling. Starlings were brought to Central Park by Shakespeare enthusiasts. However, their eye-catching plumage-glossy, spotted, and iridescent starlings, or the rich browns and grays of sparrows, enliven our cities. Their unwavering tenacity reflects a larger truth across species, making the best of a situation they've found themselves in. They are one of few birds that are not protected by the MBTA, and can be legally possessed by individuals as long as local laws are followed. These birds are legally and sustainably sourced, no animals are harmed for the sake of taxidermy.
Students will go home with their custom made creations, instructions for maintaining their pieces, and newfound or nourished love of taxidermy. This workshop is 6-8 hours long.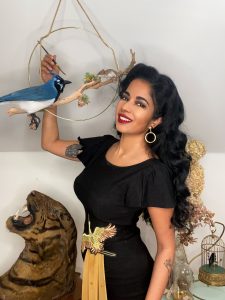 Divya Anantharaman is an award winning professional taxidermist based in New York City. Her taxidermy practice was sparked by a lifelong fascination with the intersection of natural mythology and science, and she specializes in birds, small mammals, and anatomic anomalies. With a combination of self and professional training, she creates both fantasy and traditional pieces, and teaches classes around the world. Highlights of her client list include various natural history museums, Tiffany' & Co, Neil Patrick Harris + David Burtka, Columbia University, and artists who have shown at the Venice Biennale. She is passionate about the human-animal relationship, engaging diverse perspectives, and demystifying taxidermy for beginners through workshops and lectures in a safe, inclusive environment. In her commitment to conservation, she works with various organizations like the Audubon Society, and runs a rescue. All animal parts are legally and sustainably obtained.
Location:
The Glass Source Stained Glass Studio
18 Bank Street
Suite 101
Seymour, CT 06483
203-888-1616
Registration
Limited spaces available, please sign up online via our online store: https://shop.theglasssource.com/product/starling-taxidermy-class-with-divya-on-june-4th/196?cp=true&sa=true&sbp=false&q=false