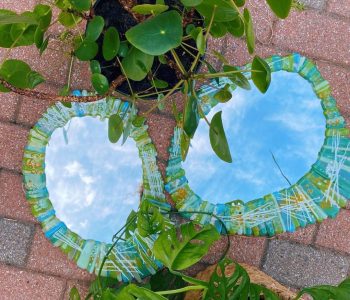 Fused Glass Funky Mirror Workshop
Cost: $145
This workshop will be back in January!
Our fused glass Funky Mirror workshop is an wonderful opportunity for you to learn how to create your own fused glass piece under the guidance of an experienced instructor. Each mirror is 14-16" large. This workshop is perfect for someone who would like to create a fun and funky one of a kind piece for their space.
In this 2 hour workshop, students will learn the basics of working with fused glass, such as cutting and shaping the glass, applying frit (finely ground glass), and layering different colors to create a design. They will also learn about proper safety practices when working with the specialized equipment needed for fused glass, such as handtools and grinders.
Our instructors will guide you through the process of planning and composing your mirror design, and will provide tips and techniques for choosing and combining different colors and textures of glass. The pieces will be ready for pick up in about a week.
This workshop is great for beginner glass artists and people who would just like to learn the joys of fused glass.
Location:
The Glass Source Stained Glass Studio
18 Bank Street
Suite 101
Seymour, CT 06483
203-888-1616
Registration
Call 203-888-1616 or email glasssourcestudios@gmail.com to make your reservation.