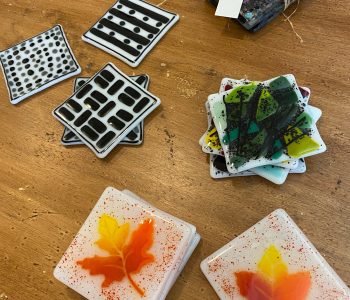 Cost: 60
In this workshop, you will learn the techniques and innovations of working with fusible glass, frit and stringers to create your own unique coaster set. Each student will create 1 set of 4 coasters. Projects will be fired and ready to be picked up the following week.
For your safety and ours, we ask that you wear a mask in the studio at all times. Students will be assigned a station with your own grinder and tools which will be disinfected before and after the workshop.
Dates: October 24th
Time: 10-12pm
Cost: $60.00
Location:
The Glass Source Stained Glass Studio
18 Bank Street
Suite 101
Seymour, CT 06483
203-888-1616
Registration
Please click on the REGISTER button to register for this class, or contact us via email at
glasssourcestudios@gmail.com
or call 203-888-1616.