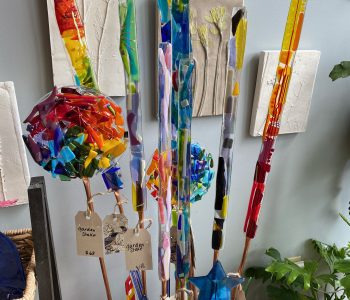 Fused Glass Garden Stakes Workshop
June 17th - 10:30-12:30 PM
July 15th - 10:30-12:30 PM
June 17th - 10:30-12:30 PM
Cost: $120
Create your own garden stakes!
Students will learn to the fundamentals for working with and creating fused glass. You will be able to design and create your very own unique plant and garden stakes. Makes a great gift and is good for indoor use, or three-season outdoor use. Students will have a wide variety of glass, stringers, and frit to choose from as well as use of all our studio supplies. Kiln firing is included in cost and projects will be ready for pickup the following week. Students can make up to three garden stakes.
All materials are included in this one day workshop; specialty glass can be purchased during the class. Get your friends together and come in for a great time!
Dates:
June 17th 10:30-12:30 PM
July 15th 10:30-12:30 PM
August 5th 10:30-12:30 PM
Location:
The Glass Source Stained Glass Studio
18 Bank Street
Suite 101
Seymour, CT 06483
203-888-1616
Registration
To register for this class, please contact us via email at glasssourcestudios@gmail.com or call 203-888-1616.