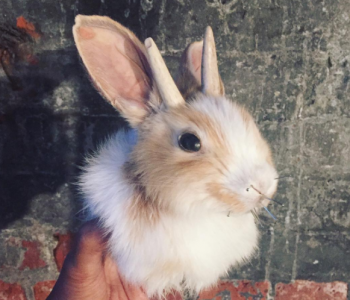 Jackalope Taxidermy Class
Cost: $325
Please join us in this extremely educational workshop taught by special instructor Divya Anantharaman on June 5th from 10 AM to 6 PM! Click here to register.
This class is designed for beginners to learn professional level techniques used in small mammal taxidermy. By focusing on the facial features, students will create a rabbit or jackalope  shoulder mount that can be affixed to a plaque or hung as is. Students will learn proper skinning and fleshing procedures, how to split, turn and position facial features, including the ears, proper preservation techniques, grooming, and the traditional methods of sculpting and carving a bust to create a shoulder mount form. Students can choose to create a natural display, or create a jackalope/hybrid creature using antler pieces, or sculpting their own. As always, students are also welcome to bring their own props or accessories if desired.
Each student will leave class with a fully finished piece, and the knowledge to create their own pieces in the future. It is recommended students bring a bag or box to transport their pieces. This workshop is 5-8 hours long.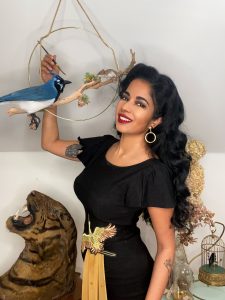 Divya Anantharaman is an award winning professional taxidermist based in New York City. Her taxidermy practice was sparked by a lifelong fascination with the intersection of natural mythology and science, and she specializes in birds, small mammals, and anatomic anomalies. With a combination of self and professional training, she creates both fantasy and traditional pieces, and teaches classes around the world. Highlights of her client list include various natural history museums, Tiffany' & Co, Neil Patrick Harris + David Burtka, Columbia University, and artists who have shown at the Venice Biennale. She is passionate about the human-animal relationship, engaging diverse perspectives, and demystifying taxidermy for beginners through workshops and lectures in a safe, inclusive environment. In her commitment to conservation, she works with various organizations like the Audubon Society, and runs a rescue. All animal parts are legally and sustainably obtained.
Location:
The Glass Source Stained Glass Studio
18 Bank Street
Suite 101
Seymour, CT 06483
203-888-1616
Registration
Limited spots available. Please register online via our online store, or follow this link: https://shop.theglasssource.com/product/jackalope-class-with-divya-anantharaman-on-june-5th/195?cp=true&sa=true&sbp=false&q=false