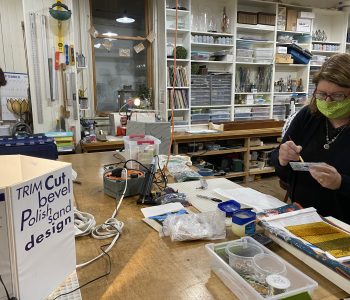 Cost:
Open studio gives you an opportunity to work independently in the studio. You will have access to our tools as well as the grinders and saw. This is not instructed time. It is a chance to catch up on a project if you are enrolled in one of our 4 week courses, or to work on a project of your own. The cost for open studio is $15/hour if you are currently enrolled in one of our courses, otherwise the cost is $25/hour. Please schedule your open studio time by calling 203-888-1616 or emailing glasssourcestudios@gmail.com
Location:
The Glass Source Stained Glass Studio
18 Bank Street
Suite 101
Seymour, CT 06483
203-888-1616
Registration
There's no registration information for this class yet available.