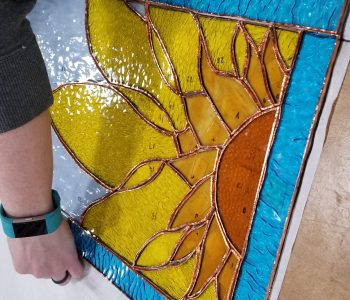 Private Class For You and a Friend
Cost: See Below
Cost: $80/Hour – (2 Hour Minimum) Plus Glass and Materials
Date: By Appointment
Private sessions are available for students looking to complete a project on their own time without having to sign up for a class. It is a great way to maintain social distancing during this time. Each private class is 2 hours with a cost of $80/Hour ($160 per class plus the cost of glass and materials.) This will be dedicated and focused instructed time with your teacher to complete a project, as opposed to working in a group. Class packages can be purchased in a 10-Class package for a $200 savings. Cost for 10-class package is $1400. Packages must be scheduled and used within 3 months. Please call the studio to schedule your private class. 203-888-1616
Students are required to bring their own mask and gloves to keep everyone safe. Each student will have their own working space and grinder, as well as their own set of tools which will be disenfected before and after each class. If it would make you feel more comfortable, we offer a Beginner Tool Kit available in our retail store, if you would like to have your own set of tools that is not shared between classes. All students should have the following materials on the first day of class:
Gloves (Latex or Nitrile at all times)
Mask (To be work at all times)
Paper Towels or rags
Black and silver Sharpie marker
Pencils
Apron (If desired)
Glue Stick
Masking tape
Safety Glasses
These are things we have typically had for communal use in the studio, however we ask that you bring your own in order to keep everybody safe.
Location:
The Glass Source Stained Glass Studio
18 Bank Street
Suite 101
Seymour, CT 06483
203-888-1616
Registration
There's no registration information for this class yet available.