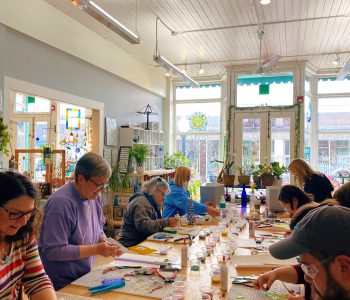 Cost: Depends on workshop
Gather all your friends around and let's get glassy! We are so happy to offer all of our glass fusing workshops as private groups. Gather a group of 8-10 people for a wonderful exploratory time of learning how to make fused glass art. When you book a private party, you get the studio to yourself and your group for two hours to create whatever you choose. In the two hours, an instructor will guide you and your group by teaching how to use the tools, the technique, and help you make your glass ideas come to life.
Details for each workshop offering can be found listed under the "Fused Glass Workshops" tab under "Education." All details and pricing remains the same for private groups. We are currently booking private groups for Friday afternoons and weekends. Please call 203-888-1616 to reserve your spot.
Location:
The Glass Source Stained Glass Studio
18 Bank Street
Suite 101
Seymour, CT 06483
203-888-1616
Registration
There's no registration information for this class yet available.