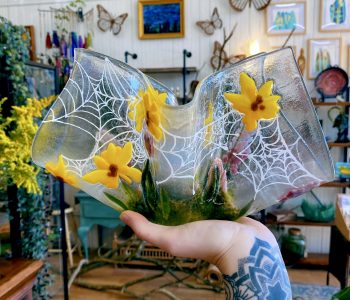 Fused Glass Autumnal Vase
9/23 2PM-4PM -
10/21 2PM-4PM (Holiday Themed!) -
-
Cost: 110
You're gonna fall in love with this workshop!
Our Fused Glass Autumnal Vase workshop is an wonderful opportunity for you to learn how to create your own fused glass vase under the guidance of an experienced instructor. Students have the option of making 1 12×12 slumped vase.
In this 2 hour workshop, students will learn the basics of working with fused glass, such as cutting and shaping the glass, applying frit (finely ground glass), and layering different colors to create a design. They will also learn about proper safety practices when working with the specialized equipment needed for fused glass, such as handtools and grinders.
Our instructors will guide you through the process of planning and composing your vase design, and will provide tips and techniques for choosing and combining different colors and textures of glass. The vases will be ready for pick up in about a week.
This workshop is great for beginner glass artists and people who would just like to learn the joys of fused glass.
Cost: $110
Location:
The Glass Source Stained Glass Studio
18 Bank Street
Suite 101
Seymour, CT 06483
203-888-1616