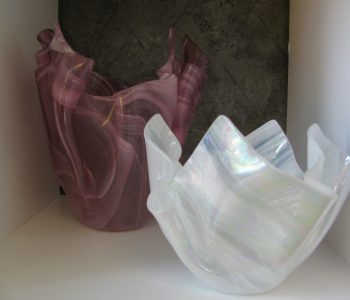 Slumped Glass Vase Workshop
September 28, 2019 - 1:00 pm
October 26, 2019 - 1:00 pm
Cost: $85.00
In this workshop, you will create a slumped glass vase. We have a variety of colors and textured glass, as well as different molds to choose from for your project. Each student will learn to cut and grind their piece to fit the desired mold. Pieces will be fired in the kiln and ready to be picked up the following week. Additional pieces can be made for a $35 fee.
Location:
The Glass Source Stained Glass Studio
18 Bank Street
Suite 101
Seymour, CT 06483
203-888-1616
Registration
Please click on the REGISTER button to register for this class, or contact us via email at
glasssourcestudios@gmail.com
or call 203-888-1616.